To East-Java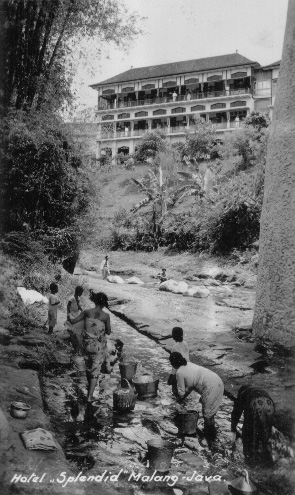 ---
It was at the beginning of 1936 that we went by train from Tasikmalaya to Malang. Our furniture and my mother's piano was transported too - I guess also by train. It was an absolutely wonderful journey and I liked the sound and the smell coming from the locomotive.

We passed several big and smaller stations. I saw many Indonesian houses where some of the Indonesian children waved to the people in the train. I waved back, of course. I remember that we rumbled over bridges; looking down through the windows was fascinating. And in between everything I saw a lot of green, beautiful green, with some very pretty flowers here and there. But I didn't see everything because I also slept for part of this journey.

In Malang we went to Hotel Splendid where we had a meal, and then Henny and I were sent to bed.

The next day, after a delicious breakfast, we went into the city and I kept on saying: "I like Malang." My mother too was very pleased with this town in the mountains. Malang was, like Bandung, a European town; it had a really fine climate, nice and cool. There were many attractive modern shops. Both my parents were happy with this town Malang in East Java.

The four of us walked up to TOKO OEN where we had a good meal. While I sat there at the table, I started looking around me. I was deeply impressed by the volcanoes around Malang: the Semeru, the Arjuno and the Kawi, watching Malang. Then my eyes turned to the Aloon Aloon (a big square) in the city. In the middle stood a proud Waringin (Banyan tree). Beneath the tree I saw a barber busy cutting someone's hair.
I felt very happy and I asked my parents if I had to go to school in Malang. The answer was yes! And so for the first time I was looking forward to going back to school and living in this friendly-looking town of Malang.

We walked back to Hotel Splendid. From the hotel we had a good view over the whole town. The hotel is near the Kali Brantas, the river that transverses Malang. My parents took a nap, and my father promised to take us for another walk through Malang later in the afternoon.

My father had to leave us the next day; he had to go to his new job on the coffee and rubber plantation Tretes Panggung, high up on the ridge of the gunung (volcano) Semeru.

My mother, Henny and I had to stay a few more days in Malang until all the furniture for our future home arrived at the plantation. We were very curious.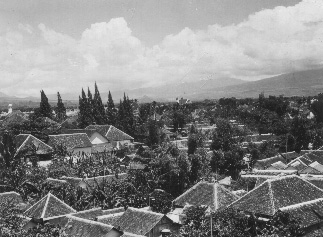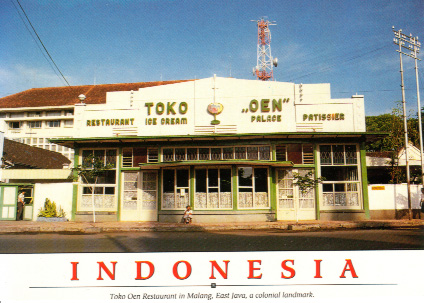 Photo from: Royal Tropical Institute
Malang
Toko OEN in Malang