Tretes Panggung

---
The next morning my father left. In the afternoon Henny became very ill and had to go to the hospital. My poor sister had bacterial dysentery, and she had to stay there for at least another two weeks. Poor Henny became very skinny, even though she had always been a plump little girl.

Five days later my mother and I went to Tretes Panggung, where my father was waiting for us with our new cook Sawila, who received us with a most charming, warm smile.

Our new home looked very pretty. My father showed us around, and Sawila brought us tea and kue kukus, an Indonesian steamed cake.

The employee who had stayed here before us was a Japanese, who had gone back to Japan. He left us several cats, two kidangs (small deer), and Dessie, a very naughty little monkey.

The kidangs had a place to sleep and a big fowl run. My mother was delighted with these two most beautiful deer.

I went to Dessie, who sat there in his cage pulling faces at me. It was strictly forbidden to touch him; Dessie could bite.

The two cats, which were very good looking, were grey and reddish.

The next day we went to visit my father's boss, his wife and their five children…and they had a swimming-pool. The youngest daughter, Agnes Houtsmuller, became my friend, and in 1996 we went back together for a month to Indonesia. One week later Henny came home.
I had to go to school in Malang, and my boarding house was run by a very strict old lady. The other boarder, Jos, was a girl three years older than I.

My new school in Malang was impressive. I had a really fine, understanding teacher and many wonderful classmates.

Schools started at 7.00 a.m and finished at 1.00 p.m in the Dutch East Indies.
After school hours I started exploring my new town Malang. My boarding house was not far from the Kali Brantas, the river. From the bridge I often watched the Indonesian children swimming and playing in the water.

I also often played with my schoolmates in the streets or at their homes. The doors were always wide open in the Dutch East Indies, and there was always something to drink or to eat. We stayed outside until it was almost getting dark, which was just before six p.m.

Every Saturday I went home with the Houtsmuller children to Tretes Panggung. That was a one and a half hour drive by car.

The happiest part of my life had started. It was a bit of living in two worlds, one with my parents on the plantation, and one in my Malang.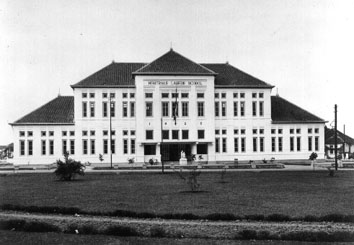 Henny in front of our house.
My first school in Malang.
Photo from: Royal Tropical Institute