Sumber Sewu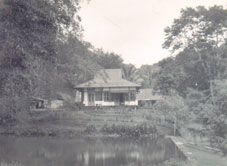 ---
Since I had done enough training, the bath-superintendent, who was also our trainer, told me that I could go for my second swimming certificate. I asked my trainer if I could swim off on a Saturday, so that my father could be there to watch me. That was fine, so we arranged a date.

My father was very impressed by my butterfly-stroke and diving. He gave me a beautiful fountain-pen; that was a very nice present for a twelve-year-old girl.

A couple of months later I had a phone call from my parents to tell me that I couldn't come home that weekend, because they were moving to a new plantation.

We were going to Sumber Sewu, which means 'thousand wells'. It was a coffee and rubber plantation: a department separated from the head plantation, Wonokerto. Sumber Sewu had its own office and coffee and rubber factory.

My father was very excited over the phone about Sumber Sewu; he seemed to be more than pleased to move over.

Then my mother started telling me that they had already seen the house and the garden; she sounded very happy too. The garden was very big, she said.

Two weeks later, when I arrived by bus at Dampit, my father and Henny were standing there waiting for me. Henny told me all about Sumber Sewu, it sounded like a real paradise.

When we drove from the main road onto the driveway of our house, I couldn't believe my eyes. It was just beautiful.

I saw two banyan trees; I saw a big pond in front of the house; I saw a big garden; and everything looked so green. I looked at my father with tears in my eyes and said: "How beautiful!"
My mother and Henny took me around the house and I met our new servants. Rasmina was our new cook, a lovely elderly woman, and Pa Min was our new gardener, also a very friendly man.

My mother had already ordered new plants, so we would get a lovely garden around the house and the pond. My father said that he had already been fishing in the pond and had caught some fish; there were many carp in the water.

Behind the house were a few fruit trees and a protected kennel for our dogs, and there was a big place for the fowl and another one for the rabbits.

Most planters left some of their animals behind for the next planter and his family. So that's why we had rabbits this time.

But I saw something more in the back yard. I saw a stable but, alas, without a horse: the stable was empty.

There were many banana trees in the garden, so I tried one of the bananas. It was a Pisang Susu, a small milky banana: delicious.

In front of the house were two Durian trees, a big, very nice fruit that does smell…but has a wonderful taste.

The house was made half out of stone and half out of twisted bamboo, and it was all painted white. The doors and windows were painted in green. On top of the house was a red zinc roof. The house was built on a small hill.

Oh yes, Sumber Sewu was very special.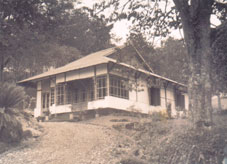 Our house
Sumber Sewu