In and around the house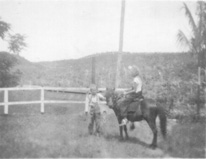 ---
What I always loved most of Sumber Sewu were the moments that I woke up early in the morning.
I stayed just a little longer in bed to listen to all those tropical sounds; there was something exciting and yet so familiar in the air.

Other mornings I was woken up by my father asking me if I wanted to come with him to the coffee or rubber plantation.
We always started off with a cup of coffee tubruk (like Turkish coffee) made by Rasmina, our wonderful cook.
We came back at around 7.30 a.m. to have breakfast.

My parents had bought two mountain horses for Henny and me.
My younger sister was a bit scared, but Trip, my horse, and I became very close friends. This was a new and very welcome adventure.

In the afternoon my parents rested for a while; also my two younger sisters had to go to bed.
I often went to the kitchen. I loved Rasmina; she was a really nice woman.

There was also a young girl in the afternoon to wash the dishes, because that was not Rasmina's job.
There was one woman to do the washing in the morning and there was another woman to do the ironing in the afternoon.
Again, another woman would clean the house with water and Lysol.

Pa Min did a good job of looking after the garden, together with my mother, but he didn't look after the two mountain horses, so there was a young man who came daily to clean the stable. I often helped him to bathe the horses when I was at home.
And then there were the kalas (the scorpions). You always had to be very alert before taking a bath: they were sometimes in the bathroom and toilet.
There were many snakes around the house in Sumber Sewu and sometimes in the house as well. I was very scared of all those snakes, yet I was never bitten.

One bad day when I entered the bathroom something fell on my head and bit me hard. I saw a tail and thought that it was a snake.
I walked slowly to Rasmina in the kitchen and she quickly called Pa Min.
It was a tokèh, a big lizard that had bitten me so hard that the blood was streaming over my face. When my mother saw this she almost fainted.
The tokèh got this name because in the evenings he calls his "tokèh" several times. When he calls seven times, you may make a wish. But he usually stops at six.

In the meantime the news coming from Europe was not so good.
The family in Holland was very worried.
Also at school our teacher spoke about the war and said that Holland too might get into big trouble. Of course our parents were all very nervous, but for us children Holland was far away. And wars…we learnt about so many wars from our history books.
The days I was at home, I read the newspapers.

But life was so wonderful, and Sumber Sewu was so beautiful.
In the evening, lying in bed, I could hear the gamelan (Javanese music instruments) playing in the kampung, the Indonesian village. The soft music rocked me to sleep.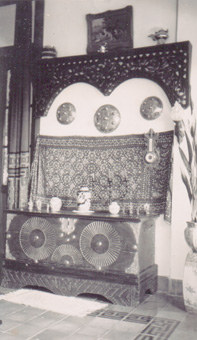 Trip and I
Our living room