Christmas 1944

---
There were many rumours in Banyu Biru camp 10, The Japanese were losing the war, the Americans, British and Australians were on the winning hand.

The Japanese camp keeper and his soldiers were very quickly angry about next to nothing, the yelling at us became louder, and more Dutch women were slapped in their faces. That must be, so we thought, a positive sign since it was very clear that our Japanese suffered from a moral degeneration. But of course we were not sure, we had no contact with the Indonesians either, also the Heiho's were under strickt control of the Japanese camp keeper and his soldiers.

But one day in December that year when my group worked outside, we met our fellow-workers who were also working outside their camp Banyu Biru camp 11. Our group leader could exchange a few words with one of the ladies and so we were told that someone had hided a small radio in BB camp 11 and she had heard that indeed the Japanese were losing badly. This was really wonderful news for us, but we were told to keep quiet about the radio!!

I kept my word, I told my mother that in camp BB 11 people knew that we were going to win the war. My mother didn't believe me, she said that I was far too optimistic.

And indeed I was too optimistic, I thought that about at least another three months we could be free, but it took nine more months before the Japanese emperor Hirohito ended World War Two in Asia.

Now and then some of the women tried to smuggle. Because near the high walls was a gutter, so from our side of the wall we offered some clothes, table-covers and other small material and from the outside were Indonesians offering some food. When the deal was done the women quickly run back to their mattresses. My mother gave Mrs. toe Water now and then something to deal with and then she received Indonesian food. This Mrs. toe Water was my hero during my time in Banyu Biru. She was never scared.
But now and then a high Japanese officer drove into our prison and then we all had to stand and listen to him, it was thenl translated by a Swedish interpreter, we were warned that if he would hear something about smuggle business in our camp, he would take the women smugglers and hit them with bamboo sticks just until they were half dead. So we were warned. But at the same time we were all starving from hunger, so some of the women went on smuggling, also Mrs. toe Water.

Christmas came, a hungry, a filthy, a sad Christmas in 1944.

My mother could only think and talk about food. She started writing recipes all day long on every single piece of paper she could find. When I came back from my work she read them out aloud to me while I was hungry and dead tired.

My sister Henny looked very tired and skinny and she was very nervous. My youngest sister Jansje was just as hungry and had like my mother and I, many malaria attacks.

And so when Christmas came there was absolutely no Christmas feeling left in the four of us.Only I knew about the radio in camp BB 11, so only I could stay more optimistic.

And how was my father treated in the Kempeitai prison from Malang? Of course he was very hungry and tired as well. And of course he was now thinking about a Christmas with my mother and his three daughters. I tried to dream and tried to see us all back at Sumber Sewu,but it seemed so extremely far away, it seemed almost unreal.

How can you dream while you are locked up in a dirty, overcrowded prison, when you are laying on a most filthy mattress full of bugs? How can you dream while your stomach cries for food? How can you dream without a sound of music?
I was seventeen years old, but I became a little scared to dream at all.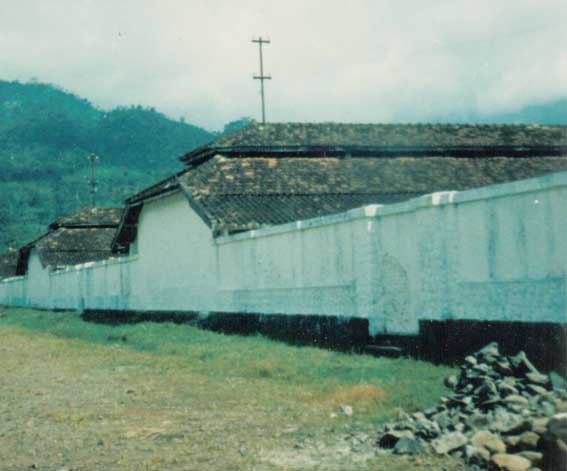 Banyu Biru 10 , this picture was taken after World War Two
Banyu Biru 10 , our cells. I receives the photos from mrs.Wood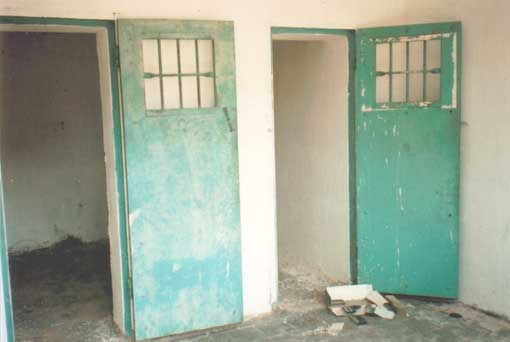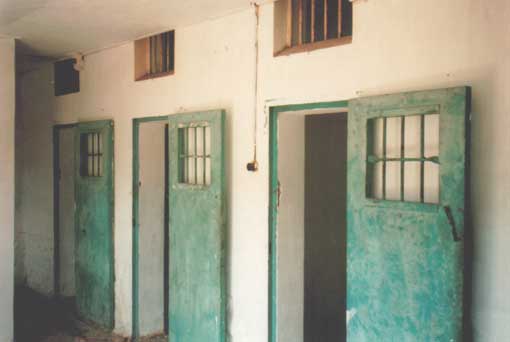 Banyu Biru 10 , our home, the cells meant for 1 person only, we were staying there all 4 of us.