The Netherlands, a home-coming?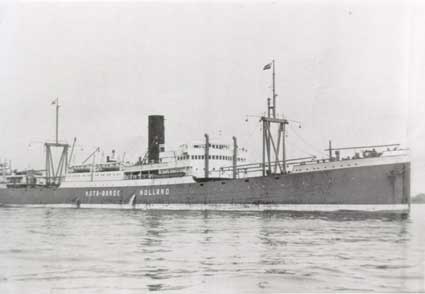 ---
It was nice to travel by ship again, the Kota Baroe took 1103 passengers from the former Dutch East Indies on board who were now leaving Ceylon, today Sri Lanka.
We all slept in hammocks, I found them quite comfortable.
I also had my first job on board of the Kota Baroe, I helped in the dining-room serving the passengers during the meals as a volunteer, at the end of the journey I received my first salary, hundred guilders. I gave them to my mother, I was not used to so much money. My pocket money before the war had been 25 cent a week, so to me these hundred guilders were a fortune.

A surprise was awaiting us when we arrived at Suez, from where we were all transported by small trains to Ataka where we saw some big sheds with many flags and from where the sounds of very happy music came our way. There were tasty sandwiches, orange juice, coffee, tea, biscuits and lots of sweets.
But we were there to receive some warm clothes before we were going to Holland with a completely different climate than Indonesia. My mother received a white and orange pyjama, she tried it on, she looked like a clown, my sister Henny and I couldn't stop laughing.
Jansje received a nice winter coat, but my mother, Henny and I received each of us a very outmoded coat.
I don't know about the others but I must say that the clothes we received were not really comfortable. But okay, they were free of charge and at least the clothes could protect us against the cold in Holland. I received a nice pair of shoes, I shall have to tell more about those shoes later on.
The next day we arrived at Port Said, all sorts of little boats came near the Kota Baroe. Some of the Arabs came aboard, they showed us how they could make snakes out of cords, it was really fantastic. My mother bought a very nice small handbag.

The 11th of June we arrived in the Netherlands, my sisters and I saw many windmills, something we had never seen before, they really looked impressive. We saw a very pretty landscape. Slowly we entered the harbour from Rotterdam.

When we left the Kota Baroe, my very last touch with Indonesia, the Dutch anthem Wilhelmus was played and we were received with coffee, tea and something to eat.
On board of the Kota Baroe, my mother had filled in that we wanted to go to the Hague where mother's parents were staying or to Helmond where my father's sister was living in my grandparents house. But we were brought by bus to Wijk aan Zee, a very small village near the sea not too far from Haarlem.
We were brought to a guest house that was full with people from the Dutch East Indies, where the four us were brought to a room with two single beds. Jansje and I slept together and my mother and Henny slept in the other bed.
The next morning my mother wrote two letters, one to her parents and one to our aunt Marie in Helmond, she asked me to post the two letters for her. People in the guest house told me how to walk to the post office and I asked Pim a new friend to come with me.
It was the first time that we went outside the guest house and we both were a little surprised how completely different Holland was from Indonesia, although Pim had been to Holland before and I was there too in 1934.
When we walked into the post office a few people began to speak to me, but not in a nice way at all. They called me "the daughter of a nasty exploiter, a slave driver, from the Dutch East Indies" Then they said to Pim ( an Eurasian girl) : "Don't let her ( pointing at me) give you any orders, she is no longer your boss".
We were both too shocked to say anything at all, they said a lot more, but I can't remember. We waited quietly standing in the queue, I handed over my mother's letters and paid for the stamps. We quickly walked back to the guest house.

Of course today I understand that they were very ignorant people, but not so on the 12th of June in 1946 while I had only shortly before learned that my father had died in a Kempeitai prison. Those ignorant people have really hurt me deep that day.

The people in the post office from Wijk aan Zee have made it more than clear to me that the Dutch from the former Dutch East Indies were not welcome in the Netherlands.
My grandparent's country didn't welcome the "supposed rich" from the Far East.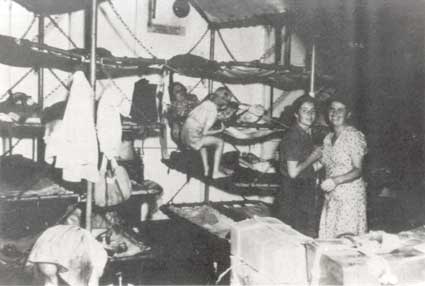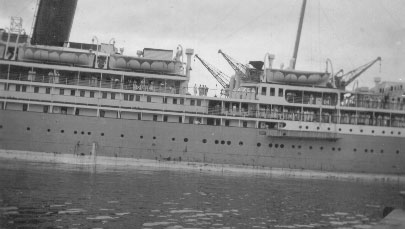 The Kota Baroe
Our "beds"on the Kota Baroe
Ataka