From England to Amsterdam, and my wedding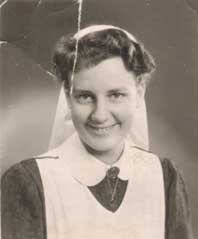 ---
England was indeed good for my English, it was also good to be on my own, I had lots of time to think about my father, I missed him terribly. I tried to find ways to go back to Indonesia, but their was nothing I could think of.
I found Nottingham a nice place, but the English food was not very tasty, as for the English in general, I found them very standoffish.
So around May 1949 I planned to go back to Holland, to Amsterdam this time.
I wrote to a big hospital in Amsterdam and applied for a place as a student nurse, they answered me immediately and sent me all sort of papers to fill in. In June that year I received the reply that I could start in September that same year. So I went to a travel agency together with my pen-friend Eileen and so I decided to fly from London to Amsterdam by KLM. I left Nottingham at the end of July, and since I arrived far too early in London I went sightseeing for about an hour or four. Beautiful that Victoria station, I found London really very impressive and was pleased that I had seen just a little bit of this very old town.


It was a short trip of course from London to Amsterdam, but I was proud of myself, most people went by boat. My mother awaited me at the airport and was happy to see me back and it of course it was nice to be home again.

In September 1949 I started my study and work as a student nurse and since I grew up in Indonesia the nuns, it was a Roman Catholic hospital, told me that I had to start in the kitchen washing dishes, pots and pans, in order to learn to work like any Dutch girl.
The Dutch from the Netherlands Indies were all very spoiled, so I was told.
I didn't mind too much for it was only for one month, but I was more disappointed when I had to serve the registered nurses in the dining-room after all my work in the kitchen, and this work was also for a month long.
But I made very nice friends among the student nurses, one of them made me so happy when she told me that there was a small Indonesian café called "Djempol" not far from the Central station, and every evening a group of four Indonesians were playing and singing Indonesian songs. We couldn't go there very often of course, but the knowledge that this café was there, made me happy.
After two months I started working in a paediatric ward, I really loved this very much and got on very well with most of the children. I wanted to become a nurse so that later on I could try to find a job in an Indonesian hospital, maybe even in Malang. But that was still a dream and I didn't talk about it.
My first year past quick and very well, I had good marks and was very happy with my work.
But during my second year I developed a stomach ulcer, I had to rest six weeks in bed, had a special diet and felt quite weak after that. Also the study became more difficult for me, my school training hadn't been enough, I never had the chance to finish my school education. But I still loved my work so I continued as good as I could, until I fell ill again for the second time with a stomach ulcer. This time I was told nicely to stop my work and training as a hospital nurse.

One of my friends knew a French family in Lyon, France, who was looking for a foreign girl to stay with them for the three Summer months in order to learn some French. I would get just some pocket money and look after their six children.
It was a very easy job, it was a great French family, with adorable children. They stayed one month in Lyon and two months in the mountains, they showed me so much of their country and the French culture, it was like a real vacation. It was very nice of my friend that she had advised me to take this "job" right after leaving my training at the hospital in Amsterdam.
I learned to drink wine and I loved the French food, I did put on some weight too. So when I came home again my mother told me that she hadn't seen me looking so well since a very long time. France became my favourite country forever.

I met Richard,I stayed at home and had a job in Haarlem for a year, in order to save some money.

On the 28th of August in 1952, Richard and I were married in Amstelveen a small town close to Amsterdam. My bridal bouquet was made of carnations, my father's favourite flowers.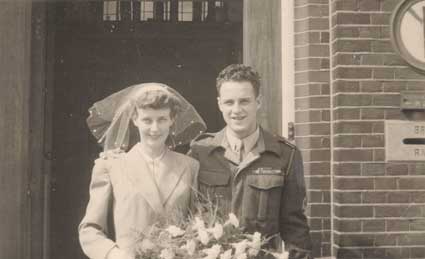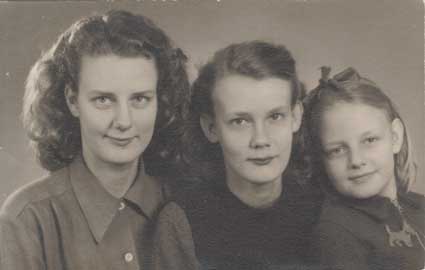 Me as a student nurse
My Wedding day
My mother's three daughters