Back to beautiful Indonesia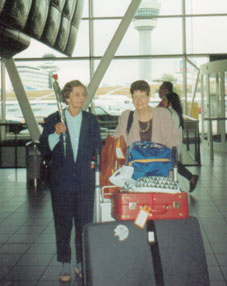 ---
It was on the 12th of September 1996 that my friend Agnes and I flew by Garuda , the Indonesian airline to the former Dutch East Indies. I hardly slept at all during this journey I was far too excited, at last I was really going back to the country where I grew up, the country I had always loved above all other countries, so how could I fall asleep.
The food on board of the plane was delicious, there was more than enough to drink as well and the Indonesian air hostesses were very nice towards the passengers.
The journey to Sumatra took us 12 hours, we flew over Europe, Turkey, Iran, Pakistan and then over India towards Indonesia.
At 7.47 a.m. the 13th of September, that was my father's birthday, we landed on Indonesian ground, Medan airport in Indonesia and so I was back home again. I am unable to describe how extremely happy I felt when I stepped out of the plane. I had told myself before landing; "In 1946 you have left the Netherlands East Indies and now in 1996 fifty years later you will arrive (back) in Indonesia". But all I felt was that "being back home" feeling, the sounds, the language, the Indonesian way of moving, the odour of the Indonesian food, the blue sky, the shining sun, I was back on the island Sumatra where my father had brought my mother and me in 1928. I was completely overwhelmed by all the emotions coming over me.
We were brought to our hotel "Sumatra Village", a bit outside of Medan, it was a real nice hotel indeed. After unpacking our luggage, we went outside for a walk and I bought my first fresh coconut milk since many years ago. To my surprise, Agnes didn't like coconut milk nor did she like any Indonesian fruit, she told me that she had never ate them at home in the former Dutch East Indies, since her mother always bought Dutch fruit like apples and so on. But luckily she did like to eat all sorts of bananas. As for myself I ate all the Indonesian fruit I could find, delicious!

The next day we went to Bohorok, to the Orangutans. What a beautiful view we had, the river over there was very clean and there were nice people everywhere.
We stayed there one night in a nice room and we ate in a simple dining room where wild cats were fighting each other all over the place.
The food was more than good and we both slept real fine in this fresh air from the mountains. We saw the Orangutans and we saw some beautiful birds too. The next morning we visited a cacao plantation, and then we drove back to Medan again and we were received like two queens. Most tourists were younger than the two of us, so the Indonesian boys and girls were real nice towards us old ladies.

That same afternoon we went by taxi to the city of Medan, the driver told us that he was a mathematics master and he told us too that he was a Catholic. By showing tourists around Medan he could make some extra money because so he told us teachers don't earn enough money in Indonesia and he had a big family, his children had to go to school, so he really needed to have two jobs, that's why he was happy to show us around in Medan. What a nice town this must have been in better days, because one could see that Medan was somehow neglected, it had lost some of its glory, but not all! Just like a beautiful old woman who gets older, somehow you can still see her beauty through her wrinkles, that's the impression I had of Medan.

Back to our hotel "Sumatra Village" we had a good meal and later on we had some tea outside on the patio together with some other tourists. Agnes did the talking and I was watching the young Indonesian men and girls doing their work in the hotel and serving us until we all were tired and returned to our rooms. Still that same patience, still those same polite manners, it was nice to hear them talk and laugh together, nice and friendly Indonesians. I wished that I could stay here forever.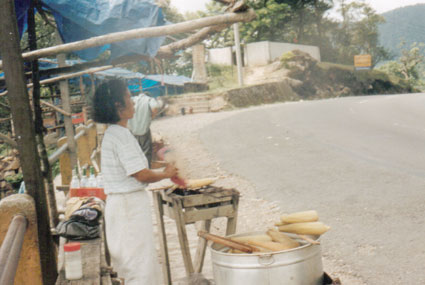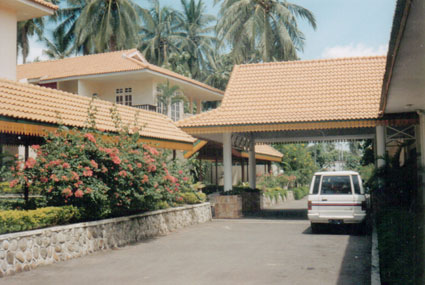 Schiphol
En route
Our hotel in Medan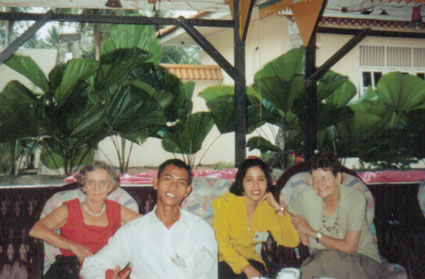 On the patio of our hotel