Medan, Palembang and Bandar Lampung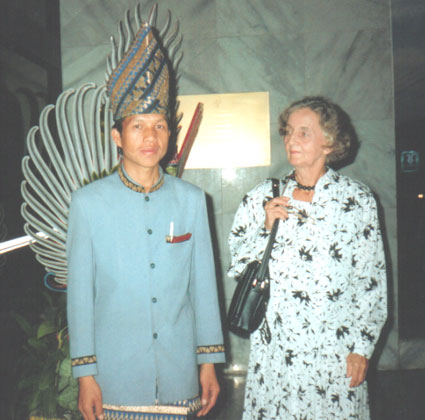 ---
It was not easy to leave this beautiful and friendly island Samosir, but we had to go back to Medan. Our driver was Muchtar and it was with him that I had my first kopi tubruk (like Turkey's coffee) since 1943, fifty years ago I had my last kopi tubruk with my father.
It tasted delicious and brought so many memories back to me.
It was a nice drive back to Medan, I can very well understand that the Dutch who lived here before the war, loved Sumatra.

It was nice to be back in our hotel Sumatra Village and we decided to walk and investigate the neighbourhood of the hotel. We spoke with several people on the road, because they asked us where we came from, they were pleased when we told them that we came from Holland and that we grew up in Indonesia. They asked us hundreds of questions and we did our utmost best to answer them all.

The next morning at three o'clock we woke up, got dressed and at 3.30 we received our breakfast in our room.
At a quarter to five a taxi brought us to the airport of Medan, we drove right through Medan town where everybody was on his or her way to their jobs, it was really very busy everywhere. At 6.30 we left by a plane from the Merpati Airline up to Palembang.
It was a beautiful flight first to Padang where we stopped a while and then further to Palembang. When you fly over Sumatra you can see how green and rich this beautiful island is. This plane flew much lower than the Garuda did, it was also much smaller.

Our hotel in Palembang looked like a fairy tale, very pretty indeed and the employees were very nice and polite. Palembang is not really a tourist town but I found the people extremely friendly.
We wanted to see the Musi river and so we had to walk right through the town.
Palembang is quite a neglected town, not too clean either, and really a very hot town as well, but the ambience was very good. The people are different from Medan, quite some people had Chinese looks and I found them very polite towards the two of us.
In the evening we stayed in our hotel and while we drank our tea, we saw several Indonesians and tourists dancing, very nice indeed. They asked Agnes and me too, but we told them that we were too old and also a bit tired. We went to bed early the next day we were going to Bandar Lampung.

After breakfast a taxi brought us to the Palembang station because this time we were going by train instead of flying to the south of Sumatra. The train left at 9.30 a.m. and was very comfortable with airco and all.
I saw a friendly landscape and we passed many small stations, it was a nice journey with more than enough to eat and to drink.
At four o' clock in the afternoon we arrived at Bandar Lampung where it was quite a job to find a taxi and watch our luggage at the same time.
We were brought to the Sahid Krakatau hotel, a very luxurious hotel indeed with a beautiful garden and not far from the sea.
Since we sat for almost eight hours long in the train, we quickly went out for a walk along the beach and so I saw the Java Sea back again after all those years, the sea my father had navigated as a very happy young man.

When we came back to the hotel we took two pictures of the doorkeeper in his Lampung costume, together with the two of us. I asked him if he came from Bandar Lampung, but with a big smile he told me that he came from Java, this traditional costume from the south of Sumatra was just to please the tourists, that was his job.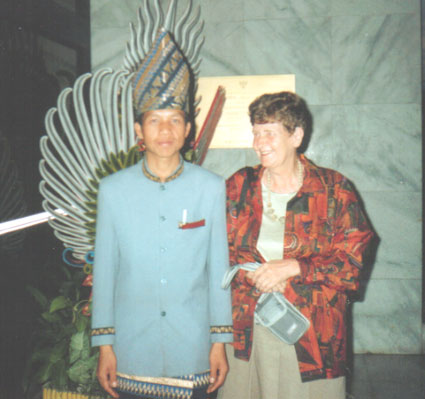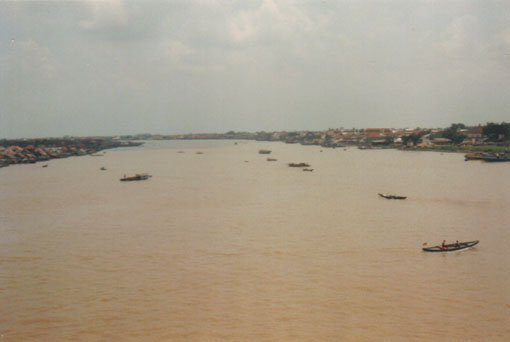 Agnes and the doorkeeper from the Sahid Krakatau hotel
Staying in this Lampung custume is my job, but I am Javanese
The River Musi of Palembang