The Lowok Waru prison

---
Julius, our driver, brought us to the Lowok Waru prison, in Malang. This prison was a Kempeitai prison during the Japanese occupation.
I handed in my permit and so Agnes, Julius and I were allowed to enter the prison where my beloved father died in March 1945. A guard showed us around and I asked him if he could show me the cell where my father died. He didn't know it which cell my father had been imprisoned, so he showed me one of the cells, since they were all the same.
The beds were made of cement, my father must have slept on his clothes, since the guard told me that there had been no mattresses in the cells during the war.
The toilet was a hole in the floor so during the monsoon, the floor was washed over with water, dirt and all sorts of vermin from the toilet.
From the ceiling hang a lamp, the guard told me, that during the war this lamp was on day and night so that the poor Kempeitai victims couldn't sleep well during the night.
The cells were divided in two parts: the sleeping part and the part where the poor prisoners were given an airing. In the airing part was a tap, so once a day the prisoners were allowed to go the airing part so that they could wash themselves and wash their clothes. The airing part was closed by a barred door, just like a cage.
I was so deeply hurt inside, it was all so painful. My father, the best friend I ever had, died after having been imprisoned for 1½ year in such a cell. And up till today I still don't know why he was imprisoned by the Kempeitai.
I didn't show it, but it was with deep pain in my heart and soul that I left the Lowok Waru prison. It was even worse than I had expected.



After lunch we went to the graveyard in Sukun, also a quarter from Malang. The Japanese didn't bother to give my father a grave.
The graveyard from Sukun was a European graveyard before the Japanese occupation.
It looked quite neglected, but there were many trees and that made it pleasant to walk around. I looked for my father's name but I didn't find it of course.

I went to the small graveyard office from Sukun and several young men began to look through the many books and papers. My father died on the 25th of March 1945 according the Red Cross. But we didn't find my father's name on any list or in any oof the books.
I saw that the Indonesians felt very sorry for me, they have really done their best to find something. But alas.

When we drove back to our hotel Splendid I felt completely empty. It seemed to me that my father never existed, my thoughts kept on turning around.
What happened to my father? What has the Kempeitai done to him?

Agnes and I went to TOKO OEN to eat something and then we took a long walk through Malang. Of course I felt very happy to be in Malang. We visited my boarding school where I was long ago, just a happy girl.

But to be honest that day, 2 October 1996, was a sad and almost unreal day for me. Yet I didn't regret it for one moment that I had visited the ex-Kempeitai prison and the graveyard from Sukun. I has been a visit to my father, a last salute from me, his eldest daughter.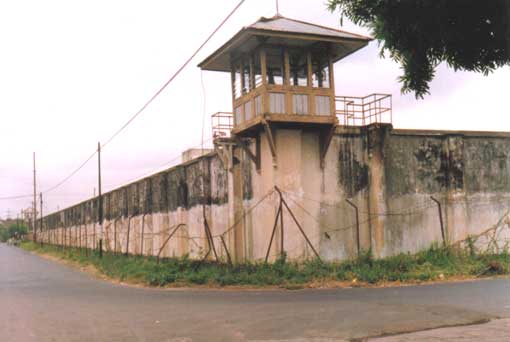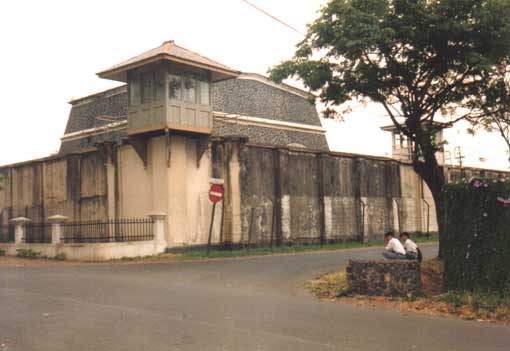 The prison where my father was killed
The Lowok Waru prison