Leaving my father, leaving Malang. leaving Indonesia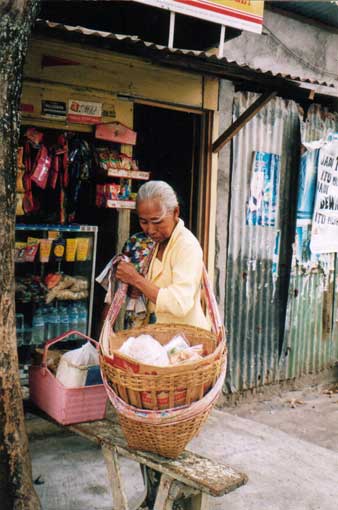 ---
Suitcases were packed, Julius helped us to bring everything into the car. Shaking hands with the charming owner of that cosy hotel Splendid. And of course we promised to come back to Malang, although I knew that I could never come back again.

The moment had arrived that we had to leave Malang, the town that shall always have a big place in my heart. Julius drove slowly so that we could have a last glance of this wonderful town. We passed my boarding-school, we passed Lowok Waru, the prison where my father died. I wanted to stay but before I knew it, we were already outside Malang.

We stopped for a kopi tubruk in Singosari on our way to Surabaya. It was my last kopi tubruk in Indonesia, so I drank it slowly until the last drop was finished. It tasted so good!

Two hours later we drove through Surabaya and when we passed the famous Darmo-boulevard, I was quite shocked. The once so rich and good looking boulevard looked really poor and very neglected.
Julius brought us to the very luxury Garden Hotel. Far too luxury in my eyes, but of course also very beautiful.
We had to say goodbye to Julius, he had to drive back to Jakarta.
We both felt very sad when this young and very charming Indonesian left us behind in the garden from our hotel. We felt a bit lost, Julius had been such a good and wonderful guide for us.

In the afternoon we visited a missionary home that was adopted by Agnes sister-in-law living in the Netherlands. Where working mothers can bring their small children during the day but there were also several orphans.

The next morning we had our last breakfast in Indonesia and since we had some spare time before our plane would take off for Jakarta we visited a big and luxurious shopping centre.
I noticed that the people were not as friendly as in Malang. But maybe they had always been that way, just like in all the other very big cities in the world.
We were brought to the airport, had some coffee in a restaurant and then we flew over Java to Jakarta. The sky was cloudy, but here and there I saw Java's volcanoes laying there below me, what a beautiful island, what a beautiful country.
I could hardly believe it that we were flying to Bangkok this same evening where we wiould stay two days.

But first to Jakarta, our plane would leave at ten past six p.m. only, so we could walk around a little on the airport. There was a lot to see, we ate some snacks, because we knew that the Indonesian airline Garuda, would spoil us again during our journey.

I found it extremely difficult to leave Indonesia, it did hurt. When the plane lifted off, when we were really leaving the country I love so much, tears were falling on my cheeks, I couldn't stop them.
Three hours flying from Jakarta to Bangkok, but I could only think of all the most beautiful places I had seen, all the nice people I had met, all the tasty snacks I had eaten again after all those years. Through my tears I could see my fathers gentle smile, I could see the smiling face of my uncle Pierre, my fathers brother. I had to leave them behind in Indonesia.
That happy, that most beautiful month that most emotional month as well, that I had spent in the country where ago grew up, so long ago, had brought me back to the centre of my soul.
I was more than grateful that I had seen "my" country back again. "Thank you people from Indonesia for having made me feel at home one month long!"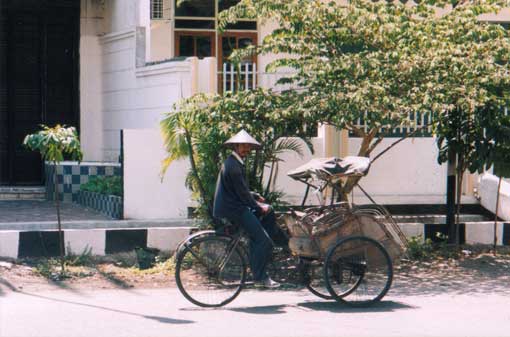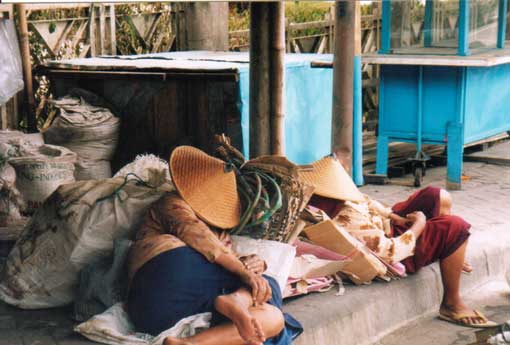 Indonesian woman finished her shopping. (three pictures taken by my daughter in 2003)
Such is life in Indonesia
Indonesians taking a rest